The unlikely leader of IKEA's EV revolution
The unlikely leader of IKEA's EV revolution
After building a career about as far away from sustainability as you can get, Steven Moelk has found himself in a place he never imagined: as the guy responsible for bringing electric vehicle home delivery to IKEA.
Steven's career shift from the "mainstream" required something now familiar to many professionals: learning sustainability on the fly. The key, he says, is to master the mechanics of your business inside and out.
"Electrification is coming", Steven says… and with it will also come a diverse array of new jobs.
View Transcript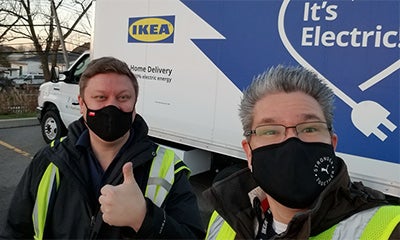 Show Notes
02:43 – Steve's unlikely start for a career in sustainability.
04:56 – On the skillsets he needed to start his own business.
07:49 – On Steve's transition from the home delivery business to a "sustainability pervasive" company like IKEA.
11:22 – On moving to a purpose-driven career… and learning sustainability on the job.
13:24 – Steve talks on the realities of meeting IKEA's goals for zero-emissions home delivery.
14:52 – The nuts and bolts of financing a transition to EVs across the mainstream.
16:38 –  On adopting the Uber and Lyft business models.
17:24 – How this shift toward EVs can't be an "IKEA-only" solution.
19:09 – Steve talks about the need to have more people working on this problem.
20:23 – What skillsets will be needed for the EV revolution.
23:14 – EVs versus diesels–and all the value added benefits for neighborhoods.
25:53 – All the related fields that will need workers to support the EV revolution.
26:52 – Advice for business owners to prepare for the coming of the full EV fleets.
28:27 – Steve's hope for the Biden-Harris administration: supporting consumer demand for EVs.
Dig Deeper
We want to hear from you
Have a comment? A (constructive) gripe? A great idea for a guest? Want to shower us with praise? Use the form below.