5 key takeaways from GreenBiz's VERGE22 Conference
In advance of COP27, more than 4,000 leaders gathered to pursue high-impact solutions to the climate crisis and the intersection of green business and technology at VERGE22 event in San Jose. EDF+Business program staff participated in meetings and panel presentations, including: Victoria Mills, director of corporate climate policy leadership; Elizabeth Sturcken, director of net zero acceleration; Katie Anderson, manager of supply chain and agricultural methane.
An urgent new warning from the U.N. Environment Program that the nations of the world are not on track to limit warming to 1.5C, was a somber reminder of the challenges ahead. The VERGE22 attendees are uniquely positioned to rapidly and radically decarbonize electricity supply, industry, transport and buildings sectors, and to ensure that food and financial systems are on the path to avoid climate catastrophe.
The conference program focused on below, are the 5 key aways from EDF:
1. Public policy is and will remain a key component to reaching net zero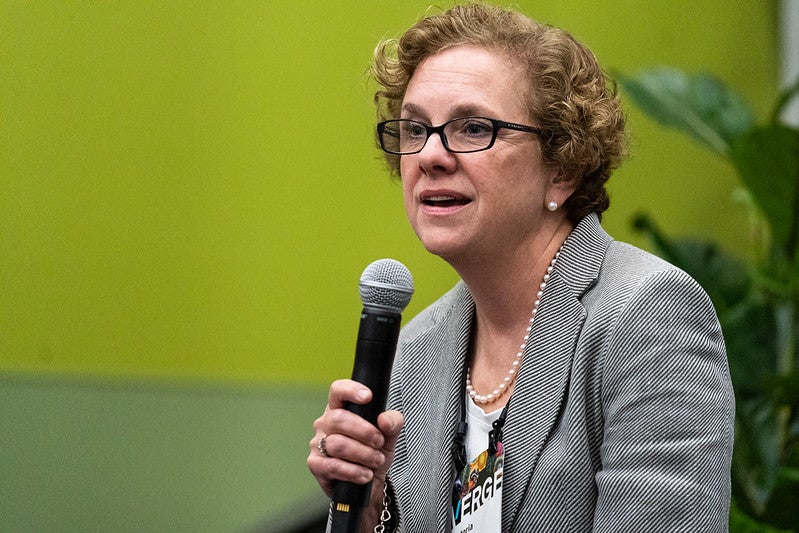 Victoria Mills participated in a session "Why and How to Lead on Climate Policy" which addressed that leading companies will not be able to meet their net zero goals without public policy. Artealia Gilliard from Ford, Kathryn Bacher from Salesforce, outlined why their companies publicly advocated for the Inflation Reduction Act, which includes $369 billion in clean energy incentives and is a crucial piece of legislation for their companies progress on net zero. Mills reflected: "This is a precious and powerful and precarious moment. With the passage of the IRA, companies have a role to play in how we can implement these credits efficiently and equitably."
Excitement about the Inflation Reduction Act permeated the conference, with renewed opportunities to cut climate pollution from the electric power, manufacturing, transportation and building sectors while revitalizing U.S. manufacturing. $28 million in new clean energy manufacturing investments have already started flowing since the IRA was signed into law, with much more to come.
At the same time, there remains significant uncertainty on the details of how the tax credits and investments will be administered, as businesses await guidance from the U.S. Treasury and other government agencies. States will also play a role, especially for loan and grant programs that will be implemented by state energy officials
2. Climate technologies can help fill major gaps.
Elizabeth Sturcken released EDF's new report with Deloitte – Pathways to Net Zero: The Innovation Imperative on a panel entitled "How the First Movers Coalition Raises the Bar for Corporate Action on Next-Gen Climate Tech." The new report highlights the highest-impact climate technologies needed to close the net zero gap by 2050. The "Big 3" technologies in renewable energy, grid and battery storage and sustainable fuels make up the foundation for the energy transition. The related "Extended 10" technologies can help to decarbonize the hardest-to-abate sectors. While most of the technologies we need exist today, nearly 75% of them are not yet commercially viable. The report includes recommendations for companies, policy makers and investors to accelerate progress. The report was featured in the Wall Street Journal, The Core Climate Technologies: How to Understand and Deploy Innovation.
3. Voluntary carbon markets are an essential solution pathway but must be accompanied with a science-based net zero target.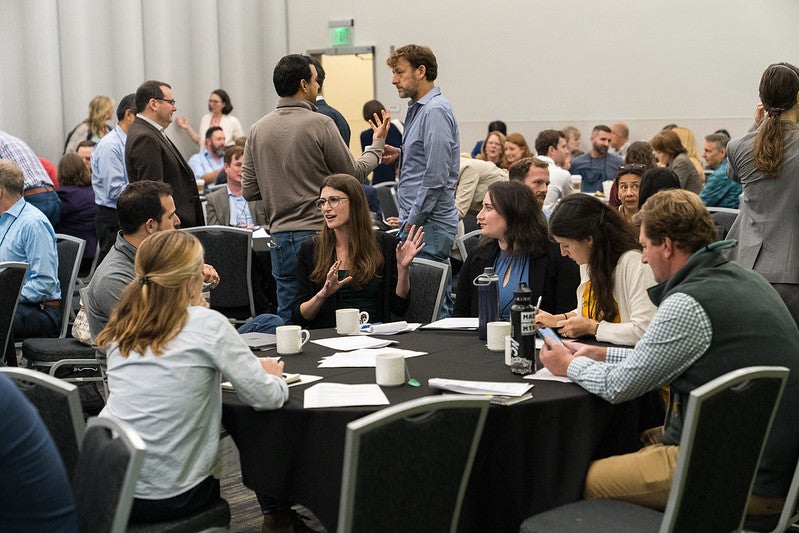 The voluntary carbon market is booming, and this level of attention and investment was palpable at VERGE. The expo area featured numerous displays from emerging start-ups and established companies such as Salesforce's new Net Zero Marketplace. Speakers highlighted major recent purchasing commitments, methods to identify quality, and barriers to scaling markets.
Yet removals are just one piece of the net zero puzzle. While money is pouring into the voluntary carbon market and sophisticated buyers deploy teams of staff and innovative technology to vet their investments, much of the VERGE audience is still working through the basics. What kind of claims can I make on the basis of a credit, and what can I "count" toward my net zero target? What's the best way to identify quality? What's the difference between a reduction and removal credit?
Sessions also highlighted the urgent need for private-sector investment in protecting ecosystems like tropical forests, including through innovative mechanisms like the LEAF Coalition. As companies and organizations work to answer these important questions for buyers, they must keep integrity, quality, and equity as a north star to ensure that carbon solutions work for all stakeholders – and the climate.
4. The methane moment has arrived, and it's here to stay as a vital solution.
Awareness grows about methane reduction as a vital solution to slow the rate of warming.
EDF+Business's Katie Anderson and joined other experts in "Beyond Seaweed: Activating a Holistic Methane Reduction Roadmap" – discussing how companies could support promising but often overlooked technologies for cutting methane emissions and come together around a methane-reduction roadmap for progress.
At least 25% of today's warming is driven by methane from human actions, and methane is a grave and growing threat to agriculture. The "methane moment" has arrived, and with it, enormous opportunities for food and agriculture companies to act boldly and responsibly to reduce emissions and increase resilience within the global food system. Other panelists joining Anderson included Judy Lai-Norling from Carbon Mapper, Sarah Nolet from Tenacious Ventures, and Karen Scanlon from Dairy Management, Inc.
5. Fleet electrification is a high impact opportunity to make progress on Net Zero
Attendees of VERGE seemed to congregate around the outsized impacts of fleet electrification. The combined effects of a supportive regulatory framework, prompt government support, and corporate ambition can pave the way for a transportation future with zero emissions. With the Advanced Clean Truck (ACT) and the Advanced Clean Cars (ACC) II rule, California sets the example for policy, with the ZEV states following suit. In addition, the NEVI funding in conjunction with the IRA framework will provide the much-needed push to establish the groundwork for major investments in charging infrastructure and the upgrade of the electric grid, which are essential to the timely success of the transition to zero emissions. Finally, private players must take charge to make sure that the supply and demand for diesel substitutes are created to move the sector forward.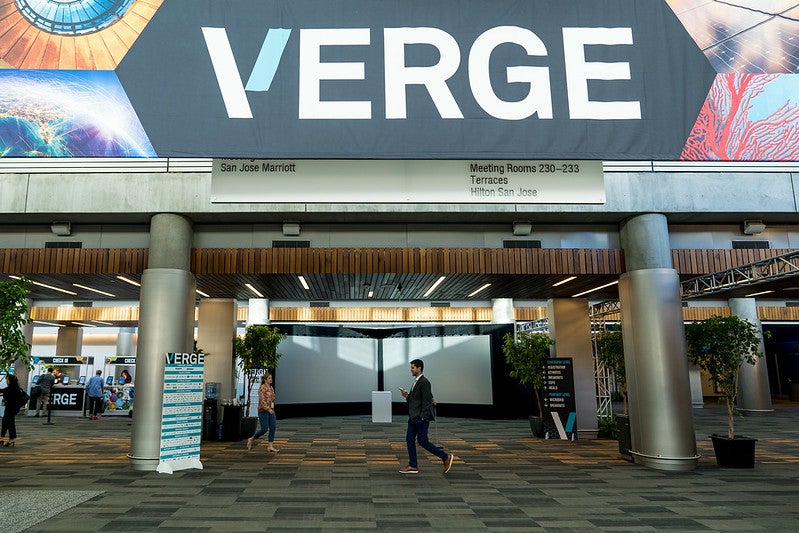 For the industry to successfully "cross the chasm," it must successfully manage the challenges which stall its advancement. These issues were raised during the discussion moderated by Mike Roeth from NACFE, which highlighted the conflict between fleet managers and sustainability leaders. Topics included the high upfront cost of EVs, the uncertainty surrounding resale value, the lack of model options, and the inadequate charging infrastructure. The group also suggested a coordinated and cooperative approach to an electrification strategy that complemented fleet operations' operational feasibility with environmental ambitions.
Concerns about justice and equity were mostly raised in relation to the utilization of public funds in the transportation transition. At a discussion with Liane Randolph, the chair of CARB, Cynthia Williams, from Ford suggested incentives that included EV trials to establish credibility and subsidized charging initiatives for non-urban, historically disadvantaged communities.
Lastly, it's clear that the road to fleet electrification is becoming paved, harder-to-abate areas of transportation need greater investment to drive forward ambitious net zero targets.
Degrees Podcast on climate jobs of the future
Co-founder and workforce development lead of ChargerHelp!, Evette Ellis spoke at Verge. ChargerHelp! launched just three years ago and is now expanding to all 50 states. Learn about their amazing story with co-founder Kameale Terry on the latest episode of EDF's Degrees Podcast.