Pathways to Net Zero: A Guide for Business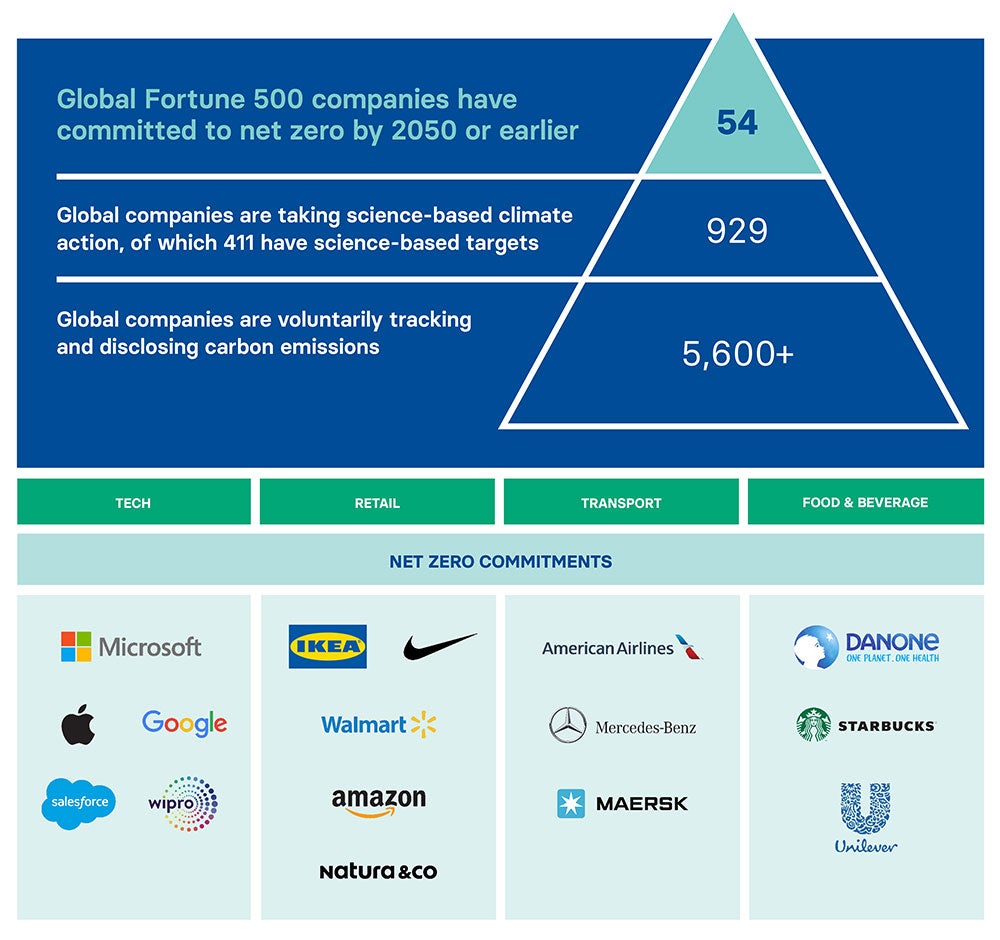 Even in this unprecedented and challenging landscape, companies are setting ambitious net zero climate goals. That's because they increasingly realize the risks posed by climate change and the need for – and business benefits of – bold and immediate action. At the same time, stakeholder pressure to lead on climate is surging.
Yet despite this encouraging trend of companies committing to net zero by 2050, setting goals is not enough to bend the curve on climate pollution. Net zero targets must be followed by detailed transition plans, including near-term milestones for deep emissions reductions, investments in innovation and new business models, and public policy advocacy.
A new report from EDF+Business, with analytical and research support from Deloitte Consulting, LLP, gives business leaders the clarification needed to accelerate the transition to a sustainable and more equitable future – and to turn commitments into action and results.
Pathways to Net Zero: A Guide for Business provides specific recommendations for the transportation and agriculture sectors, and for the retail and technology industries. It also includes a roadmap with detailed action items that companies, industries and sub-sectors can take today relative to their own operations, investments, coordination and advocacy to drive meaningful change, fast.
Key Findings
Hard-to-abate sectors, such as air travel, will likely need to use high-quality carbon credits in the short- and medium-term to achieve net zero status, but all credits must have environmental integrity and be integrated in a clear pathway to decarbonization.
All sectors should have access to high-quality carbon credits to accelerate near-term mitigation opportunities, particularly for investment in prevention of tropical deforestation.
The actual path to net zero is critical—the amount and type of GHGs emitted along that path as well as the timing of the emissions can lead to a range of temperature outcomes. The choices that companies make, especially in the near-term, can increase the likelihood of actions resulting in a better or faster outcome for the climate:
Companies should have shorter-term, science-based decarbonization goals that address all GHGs and commit companies to decarbonize both their footprint and value chain.
Business must focus on short-lived climate pollutants in addition to carbon dioxide, as 50% of warming over next two decades (from today's emissions) will be due to methane.
Business must also act with urgency to protect the world's current carbon stocks, such as tropical forests, or the journey to a stable climate becomes much harder and longer.
Individual companies rely on major economic shifts that can seem outside of their control, but have critical roles to play in signaling demand, participating in industry collaborations and advocating for policy to accelerate progress.
Marginalized groups and low-income communities bear the greatest impacts of climate change. The path to net zero must incorporate just climate solutions for people of all genders, races and skills for a more sustainable and equitable future.