These awards are presented at our annual Climate Corps Summit, the culmination of our fellowship season where we bring together our network for best practice sharing, celebration and connection.
Alumni Awards
The William K. Bowes, Jr. Award for Leadership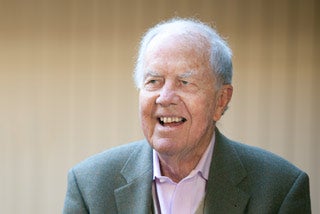 The William K. Bowes, Jr. Award for Leadership recognizes Climate Corps alumni who are leaders in their field and working to drive positive environmental change. Climate Corps alumni are energy and sustainability leaders of today who are working around the world to tackle some of our most challenging environmental issues. This award is presented to alumni who have demonstrated exceptional leadership through actions such as developing scalable solutions, sharing best practices, collaborating across and within industries, and engaging in environmental advocacy.
This award is dedicated to William K. "Bill" Bowes, Jr., an accomplished business leader and long-time supporter of Climate Corps. A venture capitalist in the Bay Area for nearly 50 years, Bill devoted much of his time to education and medical research.
See below for current and past winners.
Environmental Justice Award
Climate Corps alumni are energy and sustainability leaders working around the world to tackle some of our most challenging environmental issues.
The Environmental Justice Alumni Award recognizes alumni who have demonstrated exceptional impact through their work on equitable and inclusive environmental solutions and their advocacy for environmental justice.
See below for current and past winners.
Fellowship awards
The annual Climate Corps Fellowship Awards recognize fellows who complete outstanding work in three areas:
See below for current and past winners.
2020 award winners
Radhika Lalit – 2020 winner of the William K. Bowes, Jr. Award for Leadership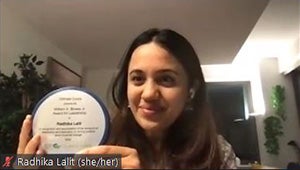 Radhika Lalit is driving positive environmental change as a director at Rocky Mountain Institute's Center for Climate-Aligned Finance – a global center of expertise on climate alignment dedicated to leveraging finance to catalyze decarbonization in the real economy. Radhika also manages a global coalition of over 30 leading organizations to spur innovation in the air conditioning industry through the Global Cooling Prize.
Prior to RMI, Radhika worked as a sustainability strategy consultant to over thirty Fortune 500 corporations in India and has successfully engaged businesses to catapult solutions for sustainable development. In 2015, Radhika was a fellow at Blue Shield of California where she made recommendations on sustainability targets as well as on solar power purchase agreements which were implemented in 2018.
Radhika has been a humble and ever-present force in the energy and sustainability community by supporting its members and helping to foster the next generation of climate and sustainability leaders. In addition to her work at RMI, Radhika is a dedicated alum who routinely mentors, shares her wisdom and even hired one of our displaced fellows from the 2020 cohort.
Phoebe Romero – 2020 winner of the Environmental Justice Award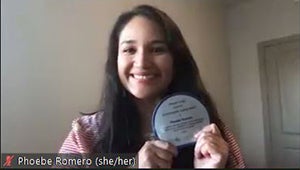 Phoebe Romero has devoted her career to addressing air quality and climate actions that reduce environmental impact and improve quality of life outcomes for disproportionately impacted communities in the City of Austin, Texas.
As a leader on Austin's 2020 Climate Equity Plan, Phoebe supports a community led process to achieve their overall goal to lower greenhouse gas emissions by 52% by 2030. Each goal in supporting the Climate Equity Plan aims to lower emissions while addressing racial equity. In her role as Environmental Program Coordinator, she connects, educates and supports stakeholders to craft ambitious and achievable goals that serve their shared community.
Phoebe was well qualified for this position thanks to her 2015 Climate Corps fellowship at Huston-Tillotson University. In this role, she coordinated energy and water audits, contributed to the university's climate neutrality strategic plan, worked on environmental justice advocacy and fostered corporate and community partnerships.
Outside of work, Phoebe is an active advocate for improving the accessibility of solar energy for low-income residents as a board member of Net Impact Austin and formerly, Solar Austin. She also hosts a podcast which focuses on interviewing diverse voices in the sustainability world. Phoebe is an active alum who has served as a Climate Corps alumni mentor, local event host and advocacy workshop participant.
Bobuchi Ken-Opurum – 2020 winner of the Business Case Award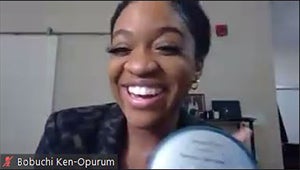 Bobuchi Ken-Opurum, of the Doctor of Philosophy in Architecture-Engineering-Construction Management program at Carnegie Mellon University, won the 2020 Business Case Award for her work with the New York City Mayor's Office of Resiliency.
Bobuchi was enlisted by her host to develop a decision support tool for assigning monetary values to the benefits of resilient design practices.She created a quantitative benefits calculator with standardized formulas that can be used across city agencies and designed a GIS interface to help visually highlight the risks of climate stressors on geographical regions.
The calculator will help agencies to streamline the quantitative analysis process for resiliency projects and the use of GIS provides important context to help bring equity to the forefront of resilience investments.
Nathalie Simoes – 2020 winner of the Innovation Award
Nathalie Simoes, of the School of Forestry & Environmental Studies at Yale University, won the 2020 Innovation Award for her work with Engie.
Nathalie was tasked with helping to enhance Engie's internal and external stakeholders' understanding of life cycle emissions associated with their wind and solar projects. She created a user-friendly tool that estimates the timeframe for a renewables site to be considered carbon neutral by calculating a project's total emissions from procurement through construction and operation.
Implementation of Nathalie's tool will enhance Engie's transparency, support stakeholder dialogue surrounding emissions, and validate Engie's purpose 'to accelerate the transition toward a carbon neutral economy'.
Christina Ismailos & Bradford Parker – 2020 winners of the Collaboration Award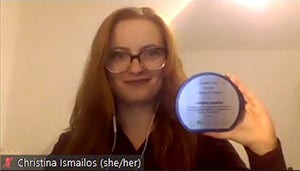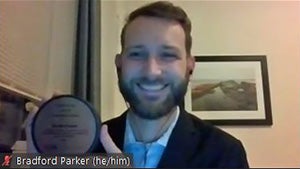 Christina Ismailos, of the Goldman School of Public Policy at UC Berkeley, and Bradford Parker, of the Master's in Sustainability Management program at Columbia University, won the 2020 Collaboration Award for their work with the New York City Housing Authority.
Christina and Brad investigated the energy management and reporting processes for over 300 of NYCHA's public housing developments across the five boroughs. After coordinating and collaborating with many of NYCHA's internal groups, they developed strategic and actionable recommendations that will improve monitoring of these buildings' energy performance.
Their work has positioned NYCHA to more efficiently comply with New York City's climate action laws, perform data driven asset management, and advance their sustainability goals.
Past award winners
The William K. Bowes, Jr. Award for Leadership
The Business Case Award
The Innovation Award
The Collaboration Award