Introducing Season 3 of Degrees
A new narrative on climate solutions
There's never been a time like this. To fight climate change, we need everyone on board. Our new season of Degrees showcases changemakers transforming their jobs and their lives for a cleaner and more equitable future. Host Yesh Pavlik Slenk dives deep into our guests' real stories — from their climate journey epiphanies to on-the-ground struggles to fulfilling successes. Tune in each week starting on October 13th to learn how you can use your career to save the planet. And join our newsletter to connect with our community!.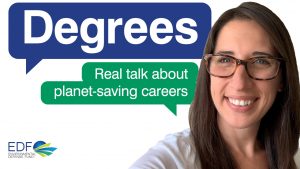 Show Notes
Yesh Pavlik Slenk talks with everyone from songwriters to city leaders to advocates and entrepreneurs about their paths to solving the world's biggest problems. You'll hear how they got where they are and how you can carve out your own path to a planet-saving career.
We want to hear from you
Have a comment? A (constructive) gripe? A great idea for a guest? Want to shower us with praise? Use the form below.