Amazon just committed to reduce toxics from its food packaging. Which retailer will be next?
From nutritional value, how and where food is produced, to the harmful chemicals that could be lurking within — consumers today are increasingly concerned about their food.
Despite some encouraging progress on transparency and labeling, toxic chemicals are still getting into our food, primarily from food contact materials such as packaging and handling equipment.
Fortunately, retailers and grocers are starting to take notice and to make commitments.
Last week, Amazon became the latest retailer – joining Trader Joe's and Albertsons – to take action to address high priority toxic chemicals in its food packaging. While the initial scope of Amazon's commitment is narrow – applying only to final packaging for Amazon Kitchen brand products sold at Amazon Go and Amazon Fresh – the chemicals Amazon has committed to avoid are aligned with EDF's list of high priority chemicals that need to be eliminated from food packaging.
The high stakes of business as usual
Virgin plastic and paper packaging often contain toxic chemical additives to enhance functionality and/or contaminants picked up in manufacturing. These chemicals, such as perchlorate and lead, have been linked to diseases and health disorders, including impaired brain development.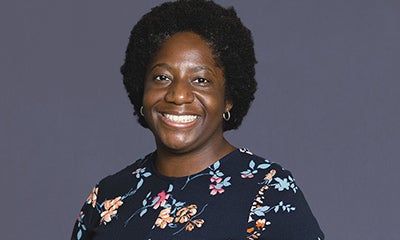 For example, FDA studies have shown increased levels of perchlorate, an additive used in plastic packaging for dry food, are present in in baby food – indicating migration from packaging to food. Furthermore, when packaging containing toxic chemicals is reused or recycled, the chemicals may contaminate the recycling stream, undermining recyclability and threatening public health.
By avoiding use of these chemicals in food packaging, companies can reduce consumer exposure, boost customer trust, support the clean circular economy and minimize the impact of future regulations.
To help companies make the transition to safer food packaging, EDF identified the most important chemicals, including PFAS and ortho-phthalates, that companies should address now.
By electing to ban the use of this set of chemicals of concern in its Amazon Kitchen brand products, Amazon is demonstrating a new commitment to safer food packaging.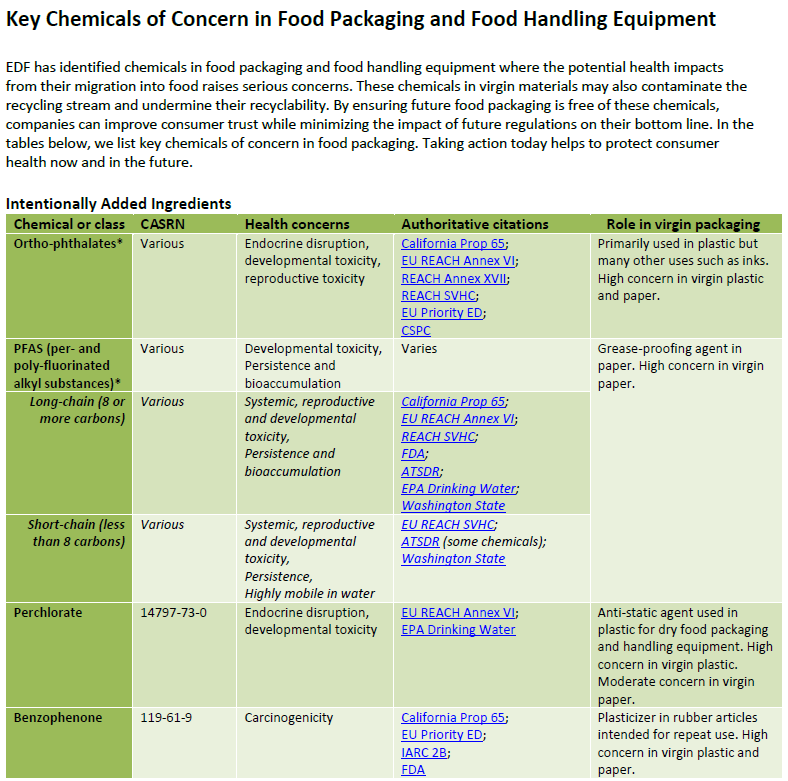 Taking safe packaging to the next level
For Amazon and other companies working to adopt safer food packaging, here are five ways to ensure that commitments translate into real results on the shelf:
Set specific timelines: Establish timelines for achieving chemical elimination goals in order to drive accountability and accelerate collaboration with packaging suppliers.
Measure, report and verify: Rigorously measure and report annual chemical reductions to track progress towards eliminating toxic chemicals and to identify hotspot products where more engagement may be necessary. To verify progress, methodically test packaging samples. Visit EDF's testing guidance for the latest on the most suitable tests for the high priority chemicals that must be eliminated from food packaging.
Use safer alternatives: Identify and use chemical substitutes that are demonstrated to pose lower or no hazard. This is as important as eliminating targeted toxic chemicals. Working with third-party hazard assessors or making use of safer alternative clearinghouses can facilitate the identification of safer alternatives. Also, since many of the toxic chemicals we identified are in widespread use across product categories, there is an opportunity to convene or join precompetitive efforts to identify and scale the use of safer alternatives faster.
Be transparent: Share timelines, progress, and most importantly, the identity and safety of the new materials used in food packaging. Transparency is the key to earning and keeping consumer trust.
Expand scope: Expand safer packaging commitments to cover all private brand and third-party food items over time. A strong pilot will inform which strategies are most effective for supplier engagement, data collection, and tracking progress. But to ensure every customer benefits from safer food packaging, leverage the knowledge gained in a pilot to replicate best practices at scale across an entire food portfolio.
Eliminating toxic chemicals from food packaging is achievable – and good for business. It starts with focusing on the highest priority chemicals and then following the steps above.
Amazon, Trader Joe's and Albertsons are demonstrating what's possible. Who will be next?
Want more content on how toxic chemicals end up in our bodies and what companies can do about it? Listen to Boma speak about this issue on EDF+Business' podcast, "Degrees": https://www.edf.org/Z7uQ
---