Climate-resilient farming has financial benefits for small North Carolina farms
Reduced tillage, cover crops and high tunnels helped small-scale North Carolina farms adapt to climate change and boost profitability, according to analysis of the real-world financial and resilience benefits of these farming practices.
North Carolina Agricultural and Technical University Cooperative Extension and Environmental Defense Fund evaluated the impacts of climate-resilient practices on three farms in diverse regions across North Carolina: the coastal plain, the Piedmont and the mountains. These farms adopted new practices in response to more variable and severe precipitation, changing growing seasons, and more frequent hurricanes.
They increased their revenue by growing high-value crops efficiently in high tunnels, and they lowered operating costs by reducing tillage and planting cover crops. The farmers also attribute better water management during severe rain events and droughts, less erosion and improved soil health to their use of climate-resilient practices. The summary report, Financial Impacts of Climate-Resilient Agriculture in North Carolina, shares insights for other farmers and their advisers to inform financial decision-making when considering whether to implement climate-smart farming practices.
Farmer case studies
Case studies of each of the three farms include a partial-budget analysis to demonstrate the changes in revenue and costs associated with adopting climate-resilient practices.
---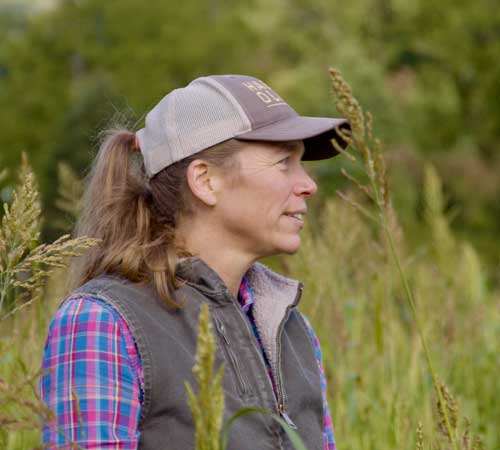 Against the Grain farm
Farmers: Holly Whitesides and Andy Bryant.
Crops and livestock: Tomatoes, lettuce, greens, ginger, peppers, cattle, goats and chickens.
Financial outcomes:

High tunnels increased farm income by $13,000 per year.
Cover crops increased net income from a quarter acre field by $7.
---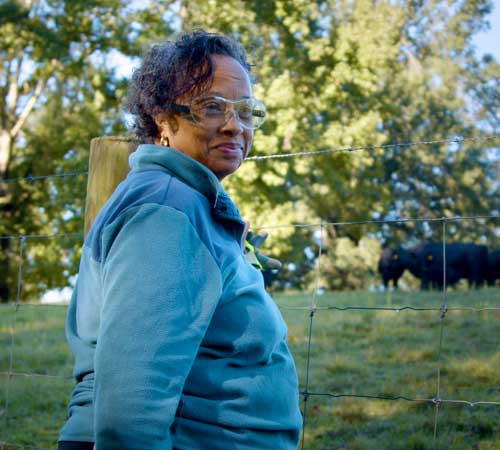 Blackwell's Farm
Farmer: Beverly Bowen.
Crops and livestock: Wheat, rye, specialty greens and beef cattle.
Financial outcomes:

Reduced tillage increase farm income by $437 per year.

Cover crops increased net income on the farm by $238 per year.
---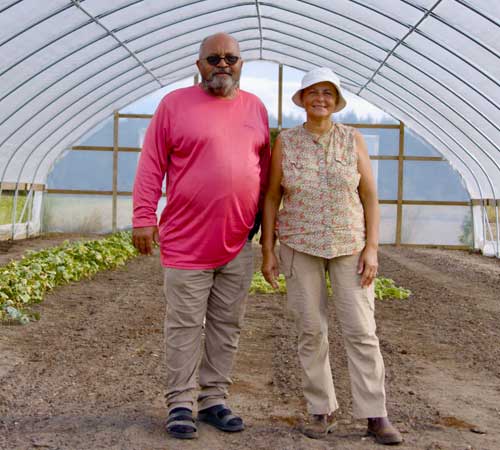 New Ground Farm
Farmers: Millard and Connie Locklear.
Crops: Peas, sweet corn, kale, collards, tomatoes, squash, peppers and eggplants.
Financial outcomes:

High tunnels increased farm income by $9,365 per year.

Cover crops increased net income from a half-acre field by $27.
---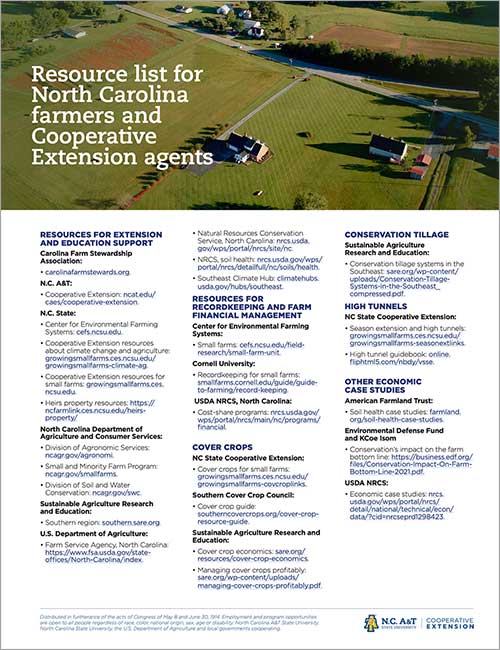 The following resource list for North Carolina farmers and Cooperative Extension agents provides additional sources of information on climate-resilient practices and farm finances.