A shareholder engagement guide to uncovering climate risks from non-operated assets in the oil and gas industry, from EDF and Rockefeller Asset Management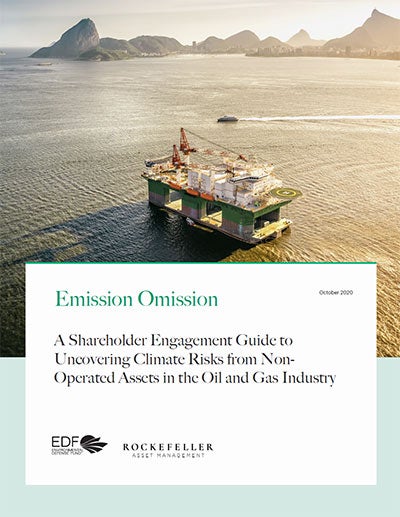 Major oil and gas producers face significant environmental, social and governance risk stemming from a vast portfolio of production assets in which they have stake, but are controlled by other third parties.
These non-operated assets are estimated to comprise on average 40% of supermajor production. Yet despite accelerating industry commitments to reduce greenhouse gas emissions in recent years, these assets remain largely unaccounted for in company ESG disclosures or targets. As customers, regulators and companies embrace a low-carbon economy, this accountability gap in emissions measurement, mitigation and target setting can have material risk-and-return implications for oil and gas investors.
Building on EDF's 2018 report, the Next Frontier, this paper offers industry analysis and technical guidance for investors to pursue constructive dialogue with oil and gas companies on non-operated assets. Now is the time to call companies to action, encouraging them to establish targets that cover 100% of their production volumes, across all assets.
Download content from the report:
Emission omission engagement questions