With COP26 behind us, how should food and agricultural companies tailor their climate strategies?
To stabilize the climate and achieve the temperature goals of the Paris Climate Agreement, we will need to dramatically cut emissions by mid-century. Right now, agriculture and land use change account for around one-quarter of global climate pollution, the majority of which sit in the global supply chains of food and agriculture companies.
This means food companies have an outsized responsibility and opportunity to lead the charge on climate action. Specifically, this means setting both ambitious targets that include all land-based emissions and clear 2030 milestones for how to be on track for those targets.
Weeks of negotiations at COP26 led to promising pledges from both corporations and governments. But how impactful these commitments will be depends on real action in the next decade. Without it, we may face 7ºF of warming with catastrophic consequences for health, coastal communities, food, ecosystems and more. For food companies, this could mean rising temperatures and more extreme weather events that can impact crop yields and disrupt supply chains.
Here are three takeaways from COP26 for food and agriculture companies looking to turn commitments into action:
Foster collaborative corporate climate leadership.
The revitalized action from the private sector we saw at COP26 is a critical step forward. But it's clear that we're still not moving fast enough, and we need to ramp up our scale and speed significantly. Individual commitments from companies to address emissions from their operations and supply chains is key. That alone, though, isn't sufficient to achieve the climate reductions needed by 2030.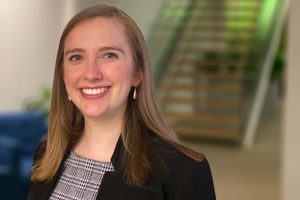 We need collaboration, whether within sectors or between public and private actors, to drive emissions reductions at scale. Coming out of COP26, we saw a flurry of new collaborations that have the potential to make a real impact:
Globally, Agriculture Innovation Mission for Climate (AIM4C) was launched by the United States and the United Arab Emirates to accelerate climate-smart agriculture and food innovation over the next five years. ClimateShot also launched with over 160 allies supporting increased innovation in agriculture.
In the U.S., the Foundation for Food and Agriculture Research and the Innovation Center for U.S. Dairy announced the Greener Cattle Initiative, which will provide $5 million over 5 years to research that helps curb enteric methane emissions. Companies like ADM, Elanco, and Nestlé have provided support for this program.
McDonald's USA joined AgMission as a founding partner alongside PepsiCo, and pledged $5 million over 5 years to develop and implement climate-smart farming solutions at massive scales.
All of these initiatives show how public-private partnerships can catalyze transformative change.
Immediately cut emissions of short and long-lived climate pollutants.
Methane matters…a lot. Reducing methane now is the fastest way to slow global warming and stay on the best possible path to net zero by mid century. Methane emissions continue to grow along with rising food and energy demand as the population increases. Livestock production is a leading source of methane emissions globally. This means that food and agricultural companies are uniquely positioned to lead on reducing methane.
While methane cannot go to zero, companies can commit to reduce agricultural methane emissions by around 20-30% by 2030. Reductions in methane from agriculture can come from already-existing technologies, such as improved manure management, animal health, and enteric feed additives. In the U.S., these existing solutions have the potential to get us over halfway to a 25% methane reduction target for the livestock industry. The remaining reductions will require companies to invest in cutting-edge innovations to help drive down livestock emissions, primarily enteric emissions from beef and dairy.
Protect the Earth's tropical forests.
We're also seeing the critical importance of nature, including the preservation of existing carbon sinks like tropical forests. Protecting tropical forests offers one of the biggest opportunities for climate action in the coming decade; in fact, natural climate solutions can provide 20% of all the emissions reductions we need by 2050 to keep average global warming under 2°C.
At COP26, we saw notable achievements on deforestation commitments, including the mobilization of $1b in tropical forest finance from countries and companies through the LEAF Coalition. In addition, thirty of the world's biggest financial companies agreed to end investment in activities linked to deforestation, and ten major global agricultural commodity traders representing over $500 billion in revenue announced a commitment to building a roadmap for eliminating commodity driven deforestation.
For companies in the food and agriculture sector, strong action now to halt deforestation must be part of your climate agenda.