Building resilient and sustainable food systems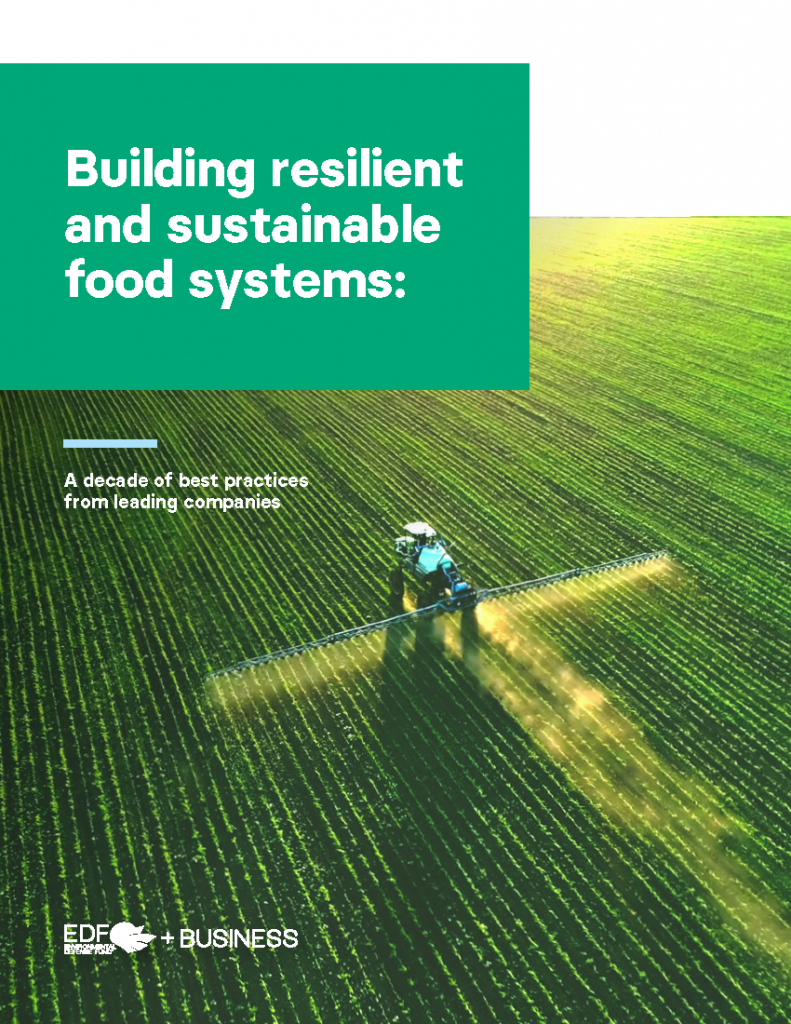 Companies are under growing pressure to lead on climate, particularly in the agriculture sector. As companies increase production to feed a growing population, the need for climate action, sustainable agriculture and increased resilience becomes even more urgent. A new report from EDF+Business provides companies in the food and agriculture space with context-based solutions and best practices to move the entire industry farther along on sustainability and get us closer to net zero emissions by mid century.
Building resilient and sustainable food systems: A decade of best practices from leading companies is a roadmap for food and agricultural companies new or early on in their sustainability journey that are interested in understanding where and how they can take action to make the greatest impact.
The report is a compilation of best practices and lessons learned to help companies streamline and scale progress. These lessons were gained through trial and error over the last decade by eleven companies seen as first-movers on agricultural supply chain sustainability. By zeroing in on these strategies, companies can supercharge their efforts to build more resilient supply chains today.
Key findings
The report identifies six critical steps corporate sustainability practitioners can take for implementing real, science-based actions to meet ambitious goals.
Identify how sustainability fits into a company and what approach to take to catalyze corporate buy-in. Engaging multiple departments to both design the vision for sustainability and support execution is essential to delivering a successful sustainability program.
Embrace strategic partnerships to build sustainability expertise and successfully implement resilience and sustainability initiatives in supply chains. Partnership and collaboration provides opportunities to learn from others when it comes to understanding the key players in sustainable agriculture, how the current system works and how to influence change effectively.
Choose a prioritization approach, such as commodity, relevance or geographic, that maximizes environmental impacts while fitting your company's overall business strategy and desired sustainability outcomes. Carefully selected and targeted sustainability initiatives provide an opportunity for companies to get the biggest return on their investment.
Commit to aggressive science-based sustainability goals to guide your company to success. A target provides a "north star" that companies can work toward, and ensures accountability to employees, customers, shareholders, investors, suppliers and competitors.
Partner with farmers and suppliers and build a foundation of trust for on the ground impact that creates value for all parties involved. Finding the right approach for partnering with suppliers will be determined by how a company sources its agricultural commodities.
Harness data to show progress, impact and credibility. Beyond using data for reporting purposes, it can be leveraged to give farmers valuable insight into the best practices to employ for their specific farm and track the progress and impact of those practice changes. This is especially important to show the impact specific practices have on farmers' bottom lines.
Why take action?
The agriculture sector represents 20% of the total share of global GHG emissions when considering near-term impacts. This underscores the need for companies and their suppliers to make strategic, longer-term changes to their supply chains to lower emissions, reduce risk and build resilience in the face of climate change.