Methane is the climate opportunity food companies can't afford to miss
Reducing methane now is the fastest way to slow global warming in the near term and a critical part of avoiding the worst consequences of climate change.
The food industry, responsible for about 35% of U.S. methane emissions, is taking steps to address its impacts, with more companies setting climate targets and net zero pledges. But there is confusion about how ambition on methane fits into these pledges. 
In the path to net zero, food companies should set reduction targets by gas, rather than lumping it all as a CO2-equivalent, a metric based on 100-year global warming potential. Ambitious, but achievable, gas-specific targets would include reducing CO2 emissions to 50% by 2030 and methane emissions by 20-30% by 2030.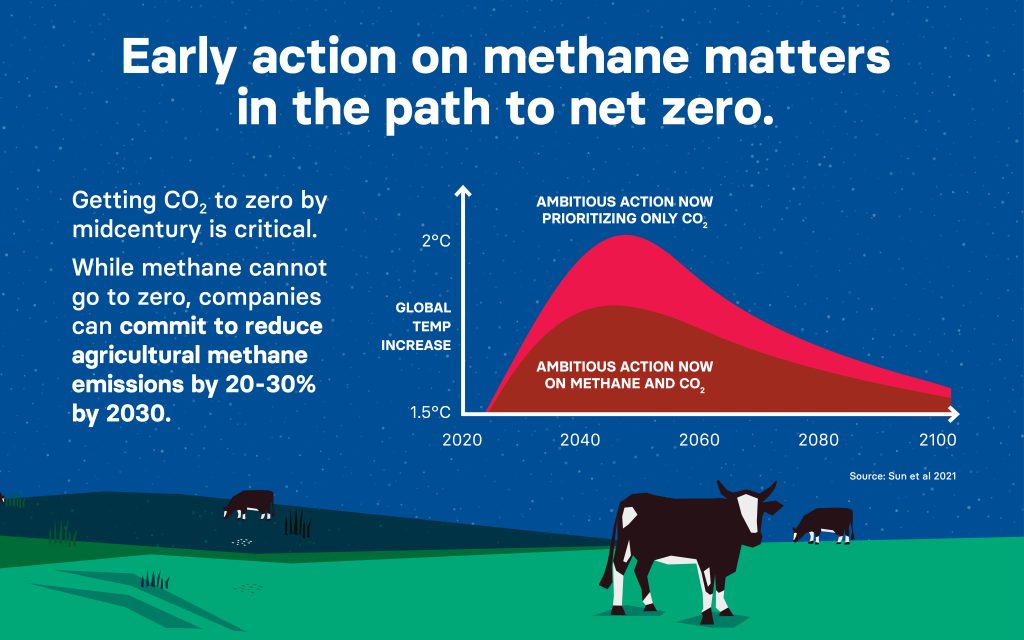 As methane creeps its way into the forefront of climate conversations, businesses who tackle this highly potent gas can position themselves as industry leaders and will realize the benefits that come with that – maintaining shareholder confidence, cultivating consumer loyalty and building reputation. 
Your profitability, resilience and reputation depend on slashing methane
Increased temperatures and extreme weather events from climate change are impacting food production and causing crop disruptions in critical sourcing regions. According to the latest IPCC report, we are already experiencing declining yields of crops like maize and wheat, and estimate up to a 29% increase in the cost of cereals by 2050, depending on the amount of warming. This instability threatens the viability of supply chains and increases costs of feed inputs, putting corporate bottom lines at risk. 
Methane is also a reputational concern for companies. As methane comes to the fore in global climate conversations, it is also increasingly integrated into expectations for corporate leadership for both consumers and investors.
FAIRR initiative, an investor network whose members manage over $45 trillion in assets, publicly reports how protein companies are performing on 10 ESG factors, including GHG emissions and methane specifically. And so far, none of the top 20 livestock and dairy companies have a methane-specific target. Meanwhile, activists are calling for increased engagement from all sectors, including the agriculture industry, on methane reductions.  
Leading companies have the opportunity to address these stakeholder concerns and make a big difference on climate in the near-term by supporting their supply chains in driving methane reductions as soon as possible. By doing so, companies can play a part in pushing technology, innovation, and public funding forward so that every farmer has viable methane reduction solutions that fit their operation.
Companies can proactively address concerns by setting a methane-specific target 
A lot of companies are wondering "If I have a target for carbon emissions, do I really need a separate one for methane?" The answer is, yes. 
Methane-specific targets are needed because even though CO2 has a longer-lasting effect, methane sets the pace for warming in the near-term. At least 25% of today's warming is driven by methane from human actions. So reducing methane now is one of the best solutions we have to slow the rate of warming in my lifetime. 
The problem is, most companies look at their greenhouse gas emissions based on 100-year global warming potential. This makes sense for a gas like CO2, which stays in the atmosphere for a much longer than 100 years. But it discounts the warming potential of gases like methane, which only stays in the atmosphere for 12 years on average.
Looking at methane and other greenhouse gases over a 20-year period gives companies a more accurate understanding of where the most immediate climate impacts are happening and where reductions efforts should be prioritized. Take the life-cycle of a carton of milk.
Over a 100-year warming period, the bulk of warming is fairly evenly distributed between enteric methane, manure management, upstream resource production and transport, processing and distribution. But when looking over a 20-year period, enteric methane becomes responsible for almost half of the emissions, and manure management for roughly a quarter.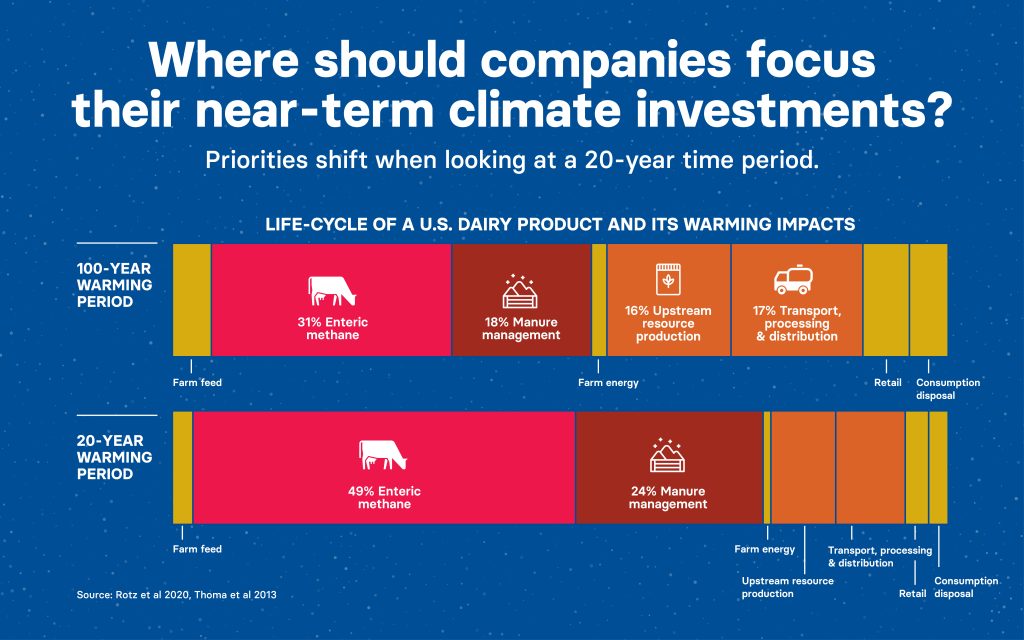 Countries and business leaders are starting to give methane the attention it requires. Food and ag companies: Setting a methane-specific target and commensurate action plan shows stakeholders that you're taking a critical step to avoid the worst impacts of climate change.
View the methodology for the visuals referenced.