Managing climate change risks at agricultural finance institutions
Eighty-seven percent of agricultural finance institutions expect climate change to pose a material risk to their business in the future, but only 24% significantly integrate climate change in business decisions, found a climate change survey of agricultural finance institutions' conducted by Environmental Defense Fund and Deloitte.
Agricultural finance institutions can proactively address climate-related risks by assessing risks to their portfolios, engaging farmer on solutions, and creating new or modified financial products that help their borrowers. EDF's and Deloitte's climate strategies guide for agricultural finance institutions lays out a roadmap for addressing climate risks in agriculture finance.
Learn more about these two reports below.
Want even more information and interested in joining us virtually? On April 10 at 1:00PM ET, EDF and Deloitte will host a webinar to present five strategies agricultural finance institutions can take to address climate-related risks and capture opportunities. Click here to register for the webinar: https://edf.zoom.us/webinar/register/WN_N3CZE0y7S1CmlanI1MJr-A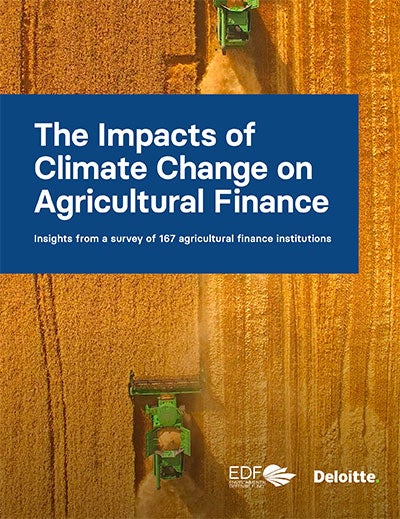 The Impacts of Climate Change on Agricultural Finance
This survey is a first of its kind global effort to assess agricultural finance institutions' perspectives on the climate risks and opportunities to their businesses.
The majority of respondents expect climate change to pose a material risk to their business in the future, but few have significantly integrated the risk into decision-making.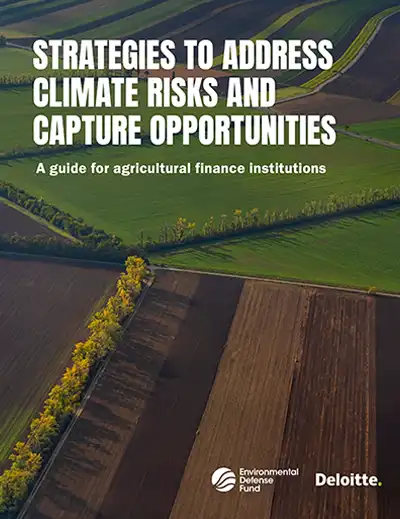 Strategies to Address Climate Risks and Capture Opportunities
This guide presents five strategies that agricultural finance institutions can adopt to manage climate risks and help their farmer borrowers adapt to climate change.
The strategies outlined in this guide will help agricultural finance institutions navigate the challenges posed by climate change and support their farmer borrowers to sustainably produce food and other agricultural products into the future.