Innovative Foods: a guide to responsible investment in cell-cultured meat and seafood
The emerging cell-cultured meat and seafood market has seen sustained growth in the last few years as companies seek out new opportunities for reducing their environmental impact, while providing nutritious food for growing populations.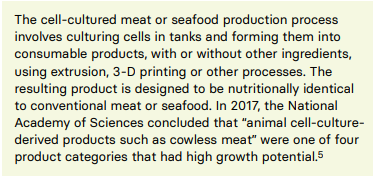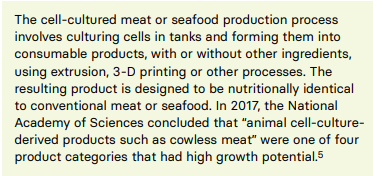 Companies are touting these products as more environmentally friendly and healthier alternatives to conventional meat. But, the evidence for these claims is limited. 
Before these products come to market at scale, we need companies that develop these products and the agencies that oversee them to ensure responsible growth of this industry. 

Innovative Foods: a guide to responsible investment in cell-cultured meat and seafood gives companies the information needed on how to assess the potential human health, environmental and societal impacts of cell-cultured meat and seafood, and to be transparent with stakeholders about the implications.
Companies, who have the greatest understanding and control of the products and the processes used to make them, can demonstrate leadership in the emerging market by adopting the following four principles:
Ensure cell-cultured meat and seafood products are safe for human consumption. Companies must ensure that a government agency with expertise and authority to regulate the product conducts a thorough review and affirms that the manufacturing process is indeed safe. The agency conducting the review must make its decision public by a credible means that is sufficiently transparent to allow public and scientific review and input.
Continuously improve the overall environmental footprint of cell-cultured meat and seafood products as compared to the foods they are intended to replace. Companies should work with partners such as academics and non-governmental organizations (NGOs) to conduct LCAs and systems analyses. The results can be used to find ways to reduce the full range of potential environmental impacts from commercial cell-cultured meat and seafood production and improve environmental outcomes.  
Advocate for programs that maximize the net societal benefits of cell-cultured meat and seafood products. Companies should identify potential social disruptions, incorporate them into any assessment of benefits and undertake measures to mitigate negative impacts. For example, choosing the seafood species to be made as new cell-cultured products carefully to maximize environmental benefits while minimizing negative social and economic impacts.
Enable consumers to make informed choices about cell-cultured meat and seafood products with accurate labeling and marketing. Companies should ensure that "Cell-cultured" is used to describe the products in labelling and marketing, and that the labels include nutritional and food safety handling differences. Moreover, all environmental and health claims should be easily accessible, reviewed by the appropriate government agency and supported by scientific evidence.