New resource empowers companies to track toxic chemicals and accelerate food packaging safety
Food packaging shouldn't be a human health hazard, an environmental pollutant or a business risk. But today, it is.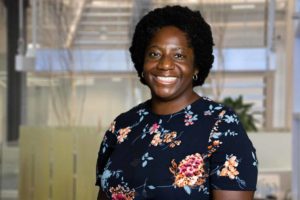 Common food packaging containers, like chip bags, drink bottles and takeout boxes, contain several toxic chemicals that leach out into the food and wind up in our bodies or the environment. It's time the food industry designs packaging that is safe and environmentally sustainable.
Pressure on companies to commit to safer food packaging is intensifying. New findings show that Americans are exposed to disturbing levels of hazardous chemicals. And, rising chemical and plastic pollution threaten the global ecosystems upon which life depends. But making headway on safer food packaging can appear daunting.
Food industry professionals can use this new web-based tool to drive elimination faster by identifying where toxic chemicals are likely to appear in their direct packaging supply chain. Doing so enables companies to gain the trust of their customers by reinstilling confidence in the safety of food packaging; maintain shareholder confidence by setting safer chemicals policies and sharing their progress publicly; and protect their reputation and bottom line by getting ahead of forthcoming regulations. 
Patchwork regulations and consumer concern are pressuring companies to act
As the health impacts become more well-known, consumers are demanding that the products they buy and the food they eat are safe. Over half of U.S. respondents in a recent study report that they are extremely or very concerned about the environmental impact of product packaging. And, up to 70% of consumers are willing to pay more for sustainable packaging.
Consumer advocacy has led to recent state regulations against the use of certain harmful chemicals in products and packaging. California, Washington and New York have all passed laws banning PFAS in food packaging. These state policies are pushing companies that sell products throughout the country to restrict harmful chemicals across their portfolios.
The increased scrutiny is making it harder for companies to keep business-as-usual. Just a few months ago, France accused over 100 companies of colluding not to disclose information to consumers about the presence of BPA in food packaging.
Twenty-three unique retailers, including McDonald's and Amazon, with nearly 84,000 stores and more than $570 billion in sales, have already committed to phase out and ban PFAS from food packaging and/or products. When food companies commit to safer packaging goals, they can begin minimizing their risk and improving their reputation.
Lack of visibility into where chemicals enter the supply chain is a major barrier for action
If the risks are real, and the business case for action is clear, then why isn't there more action?
One of the greatest barriers to companies creating safer food packaging is transparency. The majority of companies aren't aware of how many chemicals actually exist in their portfolios. Take a typical lunch: a sandwich with deli meats and cheeses, a side of chips and a soft drink. Each item at some point either touched or was wrapped in packaging containing toxic chemicals, sometimes the same chemicals appearing repeatedly. These chemicals can migrate into the food, and some can accumulate in our bodies or the environment over time.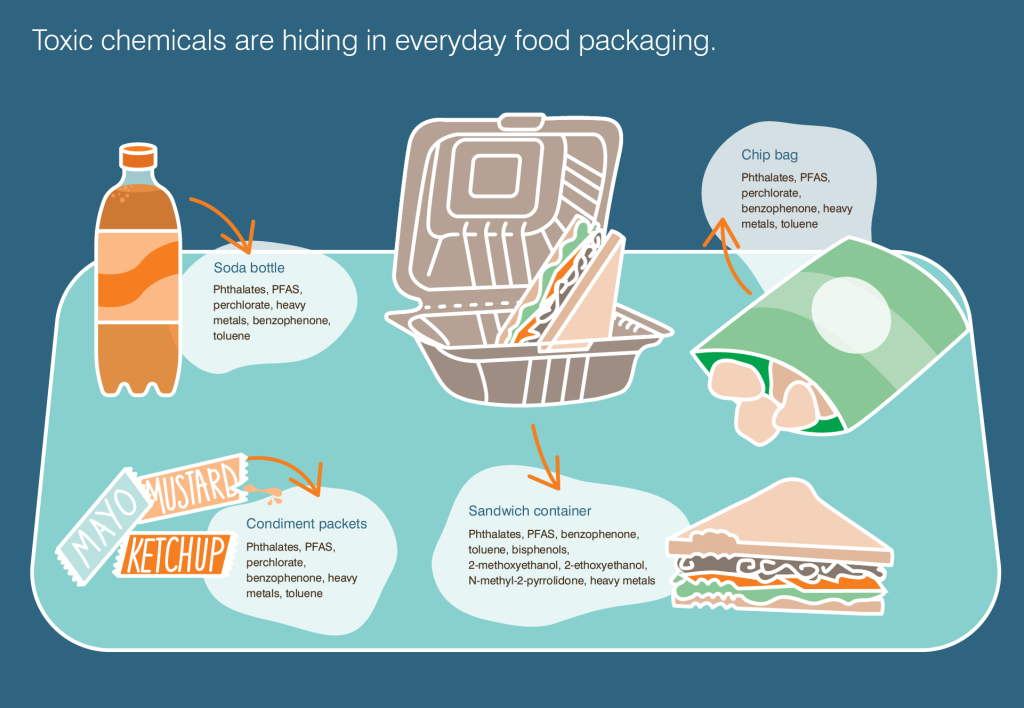 Companies also aren't always aware of the source of these chemicals. Some toxic chemicals are added to final packaging, like PFAS as a grease-proofing agent. But, they can also be used earlier on in the manufacturing process. For example, perchlorate is used in bulk food-handling containers and chutes at facilities to prevent dry foods like grains and flour from sticking to containers and machinery.
So where do we go from here? A lot of innovation is happening in this space, with more tools and resources becoming available to help companies make more informed and safer packaging purchasing decisions. What we need to see in the road ahead is more food service vendors, restaurant chains, and retailers and grocery stores committing to phase out the use of chemicals harmful to human health and the environment and making safe food packaging the status quo. 
Reserve your spot in an upcoming webinar on how food industry professionals and others can make informed decisions about the sustainability and human health impacts of foodware and food packaging products they buy.